We are more than eight years into the current bull market in US stocks, yet the masses (retail investors) are still not interested in US stocks, at least not yet.
So far this year, the S&P 500 has traded an average of 563 million shares a day, down from a daily average of 643 million in 2016,  and significantly down from the 1.3 billion average in 2007. If this pattern continues through the rest of the year, this will be the first multiyear bull market where trade volumes are declining as the market continues higher.
This doesn't mean we will not get a pullback, or even a larger correction. In fact, our models have warned that we are due for a correction soon, and we have recently sent our subscribers two trade recommendations that will protect them for such an event.
It is not too late to get into this market, and if we do get a correction, it would give investors a great buying opportunity. During the real estate boom in the US, everyone was talking about how much their house was worth. Same story for the 2000 stock market boom, all the water cooler talk was about the great new tech stocks everyone was buying.
Today, there is none of that optimistic chatter that you typically hear at the top of a bull market.  When all you are hearing is how much everyone has made in the markets, you will know we are close to the top of this bull market, but that time is not now.
In the twelve months from October '98 to October'99 the NASDAQ Composite Indes gained 100%. While that was a great run, during the following five months, the NASDAQ gained another 157%, before the top was in. We are looking for a similar sharp move higher in the next year.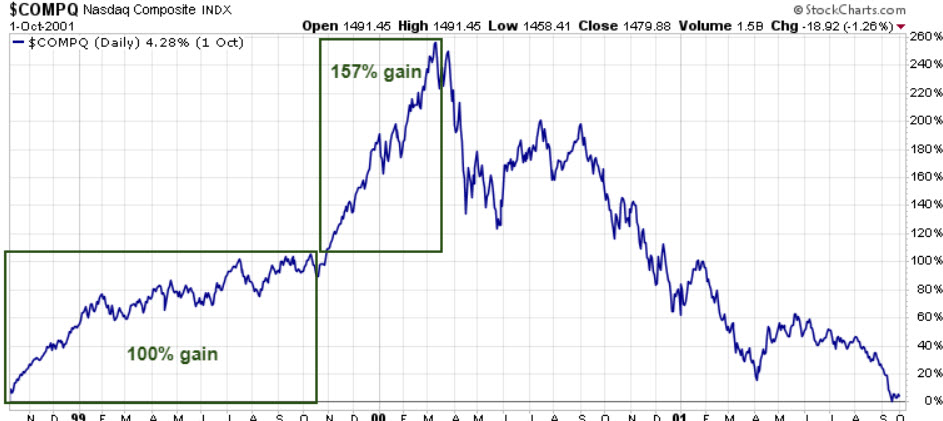 Look for the coming pullback or correction to get back into this market. We will be sending subscribers a number of trades that we believe will provide incredible gains during the coming run up in the equity markets.
Note: If you would like to  subscribe to The Trend Letter to receive all of our BUY & SELL signals, we can offer you a 38% discount off the regular rate, CLICK HERE
Stay tuned!