S&P 500
As we can see on the following chart, on Monday we hit 2779.60, pretty much bang on the outside target of 2800 for Near-term resistance that we highlighted in our February 20th blog.   Today, we closed the month at 2713, just above what was previous resistance at 2696. If we hit the 2700 level support, we should see a bounce up to the 2740-2760 range.
Immediate Resistance = 2760
Near-term Resistance = 2780
Key Resistance = 2873
Immediate Support =2696
150-DMA = 2600
Near-term Support = 2535
Key Support = 2470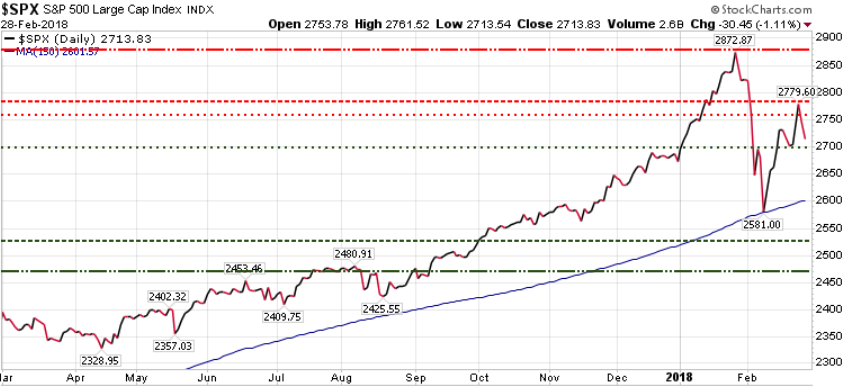 The 2740-2760 resistance is the key short-term. If it holds and the S&P drops through 2696, we could be heading for a test of the 150-DMA at 2600, and potentially a correction down to 2470. If the 2740-2760 resistance does not hold, then we should test the recent 2780 high, and potentially the January 26th all-time high at 2873.
US dollar
In early February we told subscribers to The Trend Letter to be ready for a rally in the $US. Today, the $US just pushed through Near-term resistance.
Gold
A strong $US is taking its toll on gold and silver. watch support at 1307.
Oil
Oil was hit by the stronger $US and with the EIA report today showing there was a build of 3.0Mb on the week. Large Speculators continue to buy every dip, while Commercials (producers) are sellers. If we get a break break below 59.00, then 57.00, we should see margin calls, and that would cause a rapid decline short-term. It would also set up a great buying opportunity.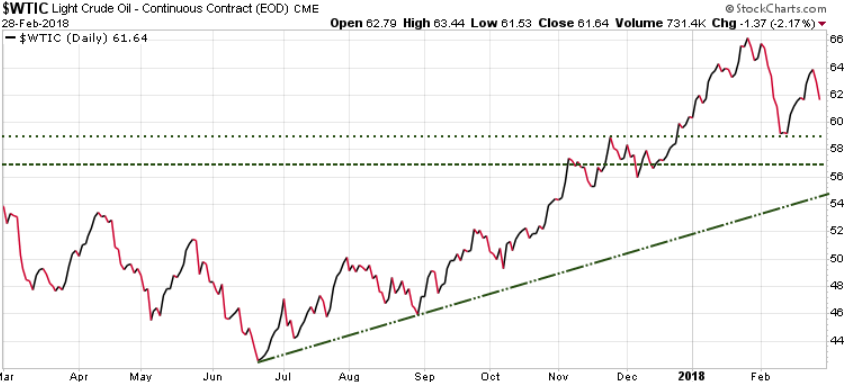 Stay tuned!