Trade war fears became reality as Trump did the expected and placed up to $60 billion in tariffs directed at China imports. China responded, saying "if a trade war were initiated by the US", which is exactly what Trump did, "China would fight to the end to defend its own legitimate interests with all necessary measures."
The two largest economies entering a trade war drove fears about the global economy, fueling the biggest stock market declines since Trump's steel tariffs announcement 6-weeks ago. In addition to trade war fears, we had Trump's personal lawyer resign today, suggesting that the Mueller investigation is coming to a head. Trump has been very good for the stock markets, so any thought of him being side tracked by a scandal does not go over well with the markets.
The Dow dropped 724 points or  2.93%, the S&P 500 was down 68.54 points or 2.52%, while the Nasdaq was down 178.61 points, or 2.43%.
In Sunday's issue of The Trend Letter, we showed subscribers how the S&P had been trading inside a wedge pattern. Below is an updated chart showing how the S&P has fallen out of that wedge pattern, dropped below its 50-DMA (blue line), and is approaching its 100-DMA (pink line).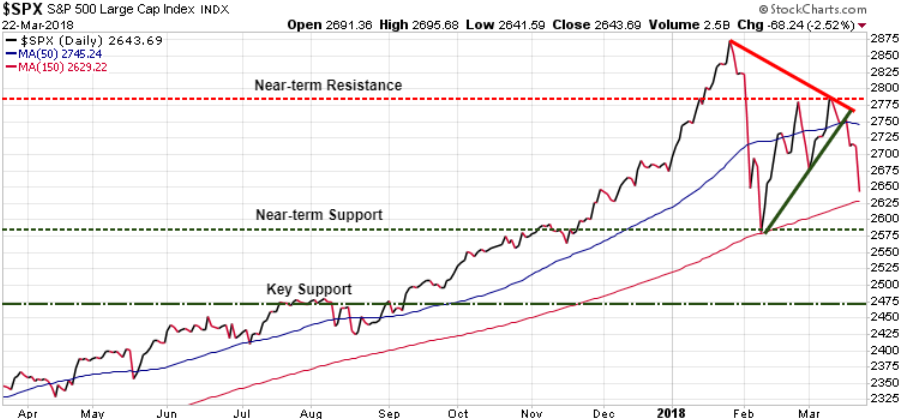 Next Key Support will be the February low where we had a close of 2581. A breach of 2581 would open the door for a test of  2535, and a break below 2535 would validate our target low of 2470.
In the bullish scenario, the S&P 500 needs to push back above 2700, then break through 2750, before attempting a third run at Near-term Resistance at 2787 (horizontal red dotted line).
Volatility
The CNN Fear & Greed Index has moved toward its deepest 'Extreme Fear' reading since the February low.
With the VIX Volatility Index a reading of under 20 indicates that investors are 'complacent', meaning a 'risk-on' sentiment, while a reading over 30 indicates investors are 'fearful' with a 'risk-off' sentiment. Today the VIX jumped over 30%, moving out of the 'complacent' zone into a neutral zone.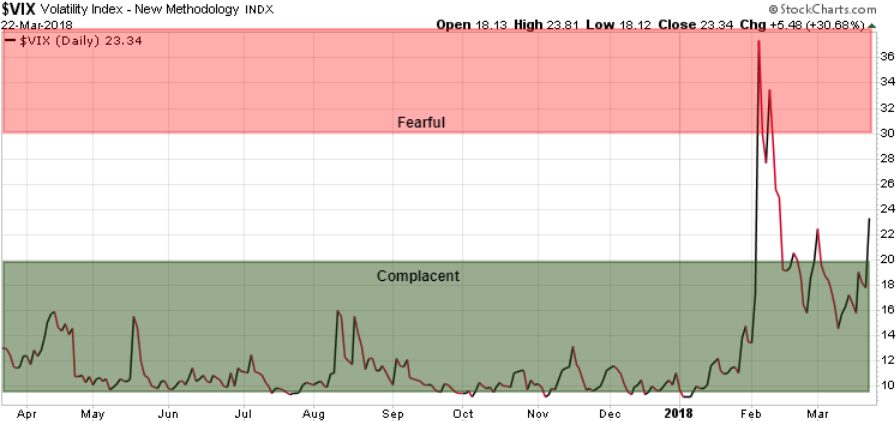 Are you protected?
While most investors will have trouble sleeping tonight worrying about their portfolio, subscribers to Trend Technical Trader (TTT) have seen their equity hedge positions gain an average of 47% since the January high in the equity markets.
You probably buy fire insurance for your home, why would you not buy insurance to protect your portfolio. TTT gives subscribers easy to action strategies to protect themselves and their portfolio in case this correction turns into a full blown crash. This bull market in stocks has been running for over 9 years, and it is going to end sometime. In the very best case scenario, we are in the late innings of this bull market, suggesting that a sizable correction is coming. Be sure you are protected!
We are extending our Special Offer to make it easier for you to get TTT's strategies for a correction, and especially for a full-on crash. It's your money – take control!  Save $250 off the regular price of $649.95, and get TTT's daily updates on the markets for only $399.95. Click here to take advantage of this offer.
Stay tuned!