In early February the S&P 500 tested its 150-DMA (black circle red line) and then rallied off that support level. Last week the S&P 500 tested its 200-DMA (black circle on blue line) and bounced off that support level. Today, after Monday's big rally, the S&P gave up much of those gains, and is again approaching that 200-DMA.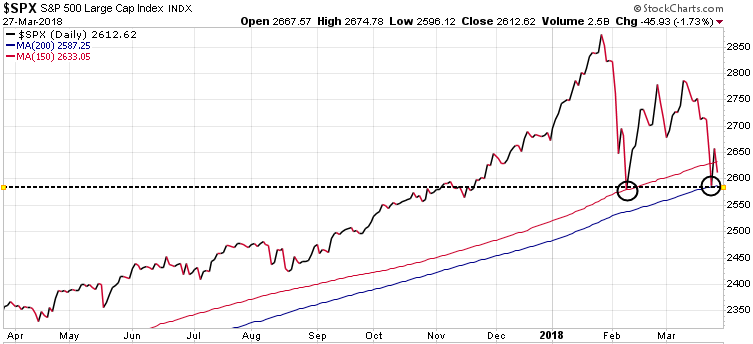 We want to keep a close eye on that 200-DMA because it is an important technical indicator. In bull markets, stocks tend to spend most of their time above the 200-DMA, while during bear markets, they spend most of their time below this line. Stocks seldom stray too far from this line in either direction, and when they do, the further they stray, the faster they tend to revert back to it. Looking at the chart below, we can see that in January, the S&P 500 strayed over 12.6% above the 200-DMA, which was an extreme,  and warned us that a correction was overdue.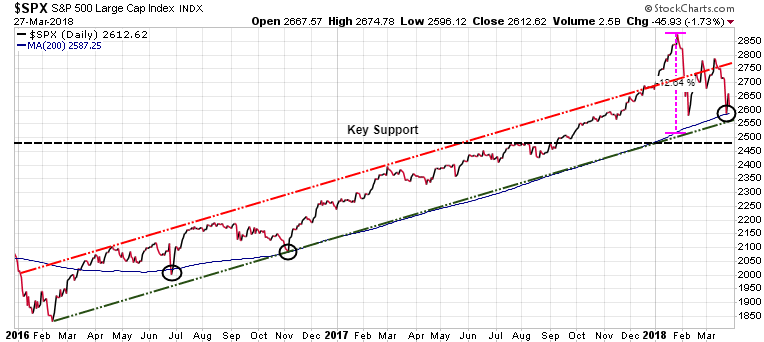 The question now is, can this 200-DMA hold, and the S&P rally from there?
Key levels to watch:
2587 – the 200-DMA
2535 – bottom of the 2-year uptrend channel
2470 – Key Support
This action in the markets is a reminder that every investor needs to have an exit strategy, a plan to ensure that you do not incur large losses. Be sure to have SELL Stops to lock in gains and limit losses.  Another great strategy is to hedge your long positions. Trend Technical Trader (TTT) is an excellent hedging service that provides subscribers with daily market updates and easy to action strategies to protect their investments and actually make money when the market is declining.
This bull market in stocks has been running for over 9 years, and it is going to end sometime. In the very best-case scenario, we are in the late innings of this bull market, suggesting that a sizable correction is coming. Be sure you are protected!
We have extended our Special Offer to make it easier for you to get TTT's strategies for a correction, and especially for a full-on crash. It's your money – take control!  Save $250 off the regular price of $649.95, and get TTT's daily updates on the markets for only $399.95. Click here to take advantage of this offer.
Stay tuned!