October 15 , 2017
Last week oil rallied 2.16, closing the week at 51.45. There is a meeting this week between OPEN and non-OPEC countries, where OPEC is hoping to convince on-members to voluntarily cut back production to boost oil prices.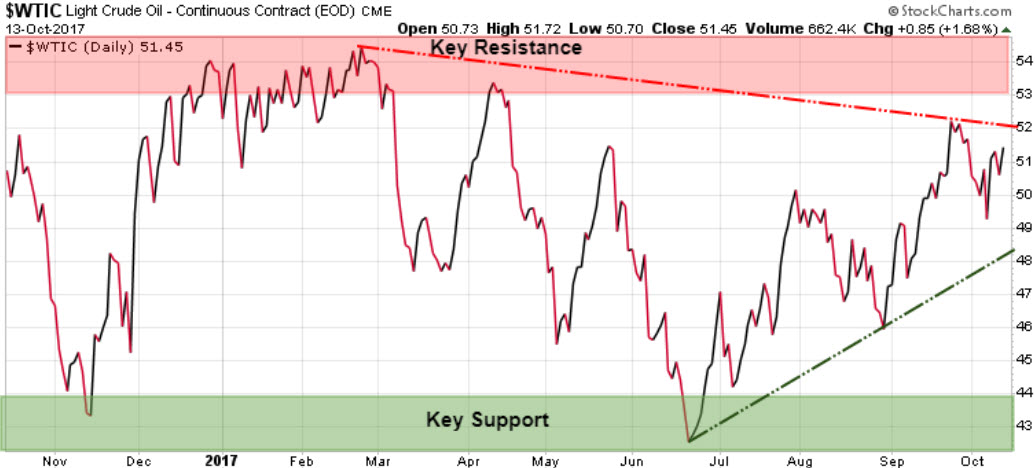 Due to the hurricanes, much of the data over the last few weeks was skewed, and we should start to see cleaner data over the next week or two. One thing we do know is that based on seasonality, we are entering the Fall shoulder season, where supply tends to far outweigh demand, resulting in oil price weakness through to December.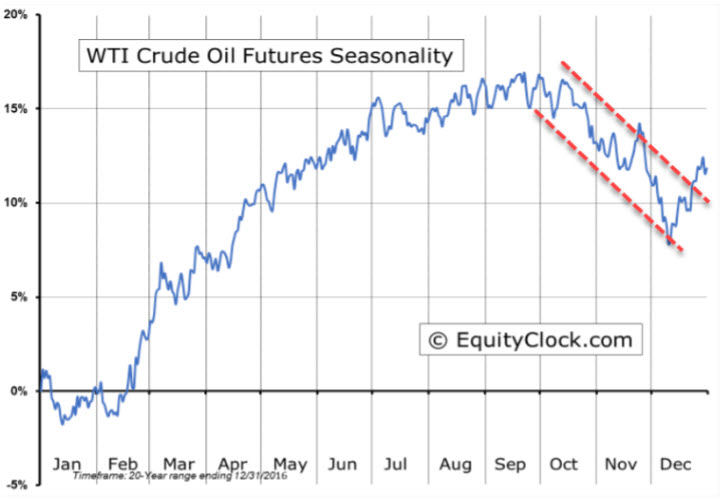 There are four important Support and Resistance levels to keep your eyes on:
Near-term Resistance sits at 53.00
Key Resistance sits at 55.00
Near-term Support at 48.00
Key Support sits at 42.00
Bullish scenario:  Should oil move and hold above the 55.00 level, it would be  very bullish, and suggest we could see 60.00 oil by the end of the year.
Bearish scenario: If oil breaks down below 42.00, it will be very bearish, and suggest we will see  35.00 oil Q4/17 – Q1/18.
Our current forecast: Based on supply and demand, and given that we are now ending the summer driving season, our models favour the bearish scenario and are calling for sub 40.00 oil starting in late October, with the ultimate low likely in the 35.00 range in Q4/17 – Q1/18.
Note: We recently sent subscribers a trade to make profits while oil prices decline. When we see the low in oil, we have a number of  energy stocks on our radar and expect them to be table thumping buys before year-end.  We will issue Flash Alerts to subscribers when our models trigger BUY signals. Now is not the time! 
Background:
The tug of war between the bulls and the bears continues, with Large Speculators jumping in and buying every dip. Months ago OPEC announced they would extend their quotas for another nine months, but they did NOT tighten those quotas.  As we warned prior to that announcement…
"an announcement of  an extension of the quota timeline was already priced in, so unless they tighten those quotas they will not get prices up to the 60.00 range that they want."
While OPEC and some non-OPEC countries promise to cut production, most non-OPEC countries, with the US leading the way, are ramping up production. The following chart is from the International Energy Agency (IEA) and shows how the US production has climbed to 9.56 mb/d, closing in on the all-time record 9.6 mb/d in June 2016.

We are now at the end of the "driving season" where oil stocks decline as refinery utilization rises to peak summer highs, so we expect to see some draw down of inventories. The problem for OPEC is that any increase in demand due to "driving season" is being set by increased production in Libya, Nigeria, Brazil, Canada, & the US.
Note on the following chart that current US inventories are more than 110-150 million barrels higher than the top end of the historic "normal range."

Not only is the US ramping up production, they are also pouring money back into explorations.  There are now 743 rigs operating in the US, up over 122% from the January 2016 low of 334.
There are many supply and demand factors that affect oil prices.  Reports on production/supply and demand are reported regularly by the mass media, and it is that reporting that most investors base their decisions as to where the price of oil is headed.
The problem for the mass investors and most hedge funds is that while they must wait for these reports and forecasts to be published, the large producers and merchants have already acted on the data. These large producers and merchants are the source of most of this data, so they know the numbers before they are published.
The reality is that while the mass investors and hedge funds simply do not have the capacity or contacts to access this data in a timely fashion, there is a way we can see what the large producers are doing with the data they have. We can watch what these Commercial Insiders are doing by looking at the Commitment of Trader (COT) data.
On the COT chart below, the Commercial Insiders are the red line, while the Large Speculators are the green line.  As we zoom in we can see that the Commercials have been massively selling to the Large Speculators. In fact, the Commercial Insiders are currently coming off the most bearish net short position EVER! At the same time the Large Speculators are coming off their most bullish net long position EVER!
The last time we had a spread this wide oil had a severe corrections (red arrow).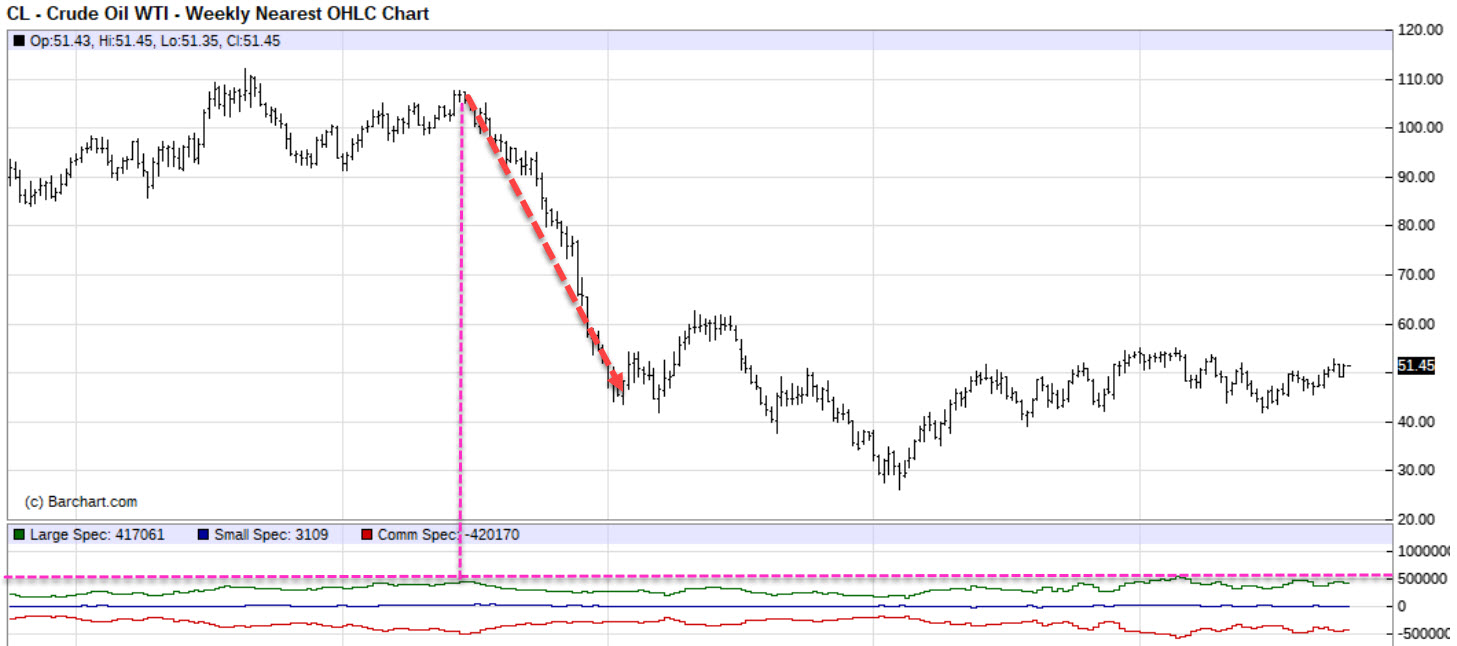 With OPEC failing to announce further cuts they have missed their opportunity to reach their goal of lowering oil inventory stocks to their targeted 5-year average and now risk  losing even more market share to US shale, and other non-OPEC producers.
The bottom line is there is a glut of supply versus demand. Add in the record levels of speculative extremes, combined with the risk of OPEC members failing to comply with their quotas, the potential for a plunge in prices is much higher than most investors are prepared for.
Subscribers get the up to date picture, including BUY & SELL signals in the weekly issues of The Trend Letter.
---
Get all the information
Every morning we issue our free Headlines newsletter, & once or twice a week we issue a Market Musings newsletter to help investors stay ahead of the herd. The Trend Letter is a contrarian investment newsletter, so most of our articles are based on topics that you are unlikely to see in the mainstream media.
If you would like to receive our free Headlines, & Market Musings newsletter each morning, fill in the form below.
Stay tuned!