Last week we warned to keep a close eye on the 200-DMA because it is an important technical indicator. In bull markets, stocks tend to spend most of their time above the 200-DMA, while during bear markets, they spend most of their time below this line. Stocks seldom stray too far from this line in either direction, and when they do, the further they stray, the faster they tend to revert back to it.
Today the S&P 500 closed just under the 200-DMA at 2581, which just happens to be the first target support level that we published a few months ago.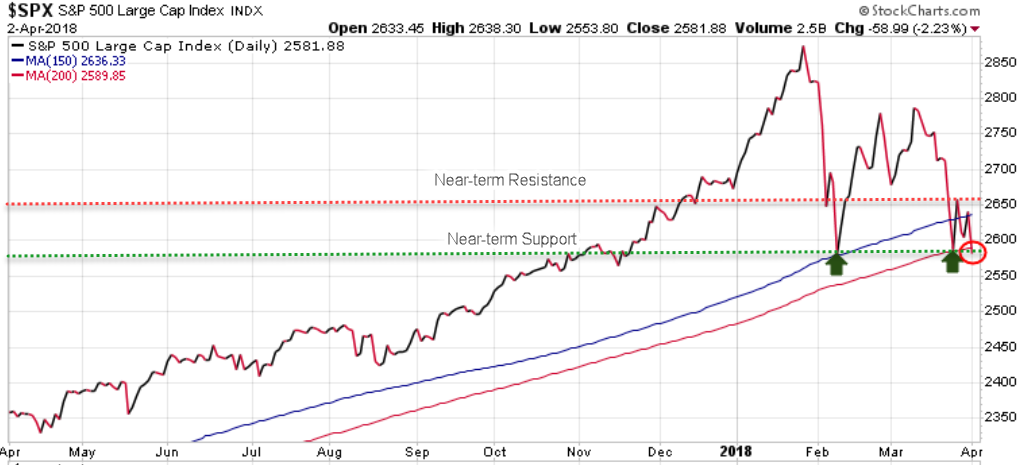 A closing below 2581 suggests that the S&P 500 could test the bottom of its 2+ year uptrend channel. Breaking below that channel at 2535 warns that we could see a more significant correction going into June. Keep your eye on that 2535 bottom of the uptrend channel, it is key. A break below 2535 validates our original target low of 2470, which we identified in our February 11/18 issue of The Trend Letter.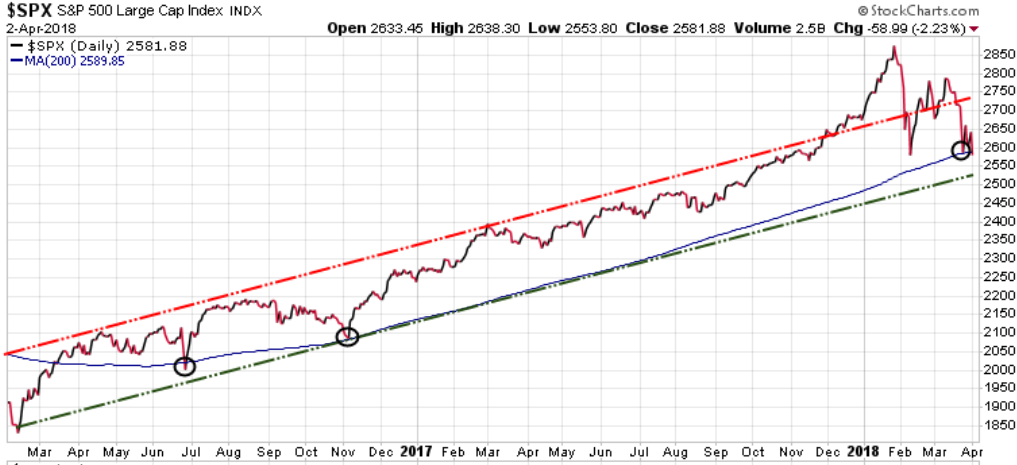 Tomorrow we will see if the 200-DMA can hold here. Certainly, the bulls need to see the 2-year uptrend channel hold.
While we still believe that this pullback is simply a long over-due correction in an ongoing bull market, rather than the beginning of a long bear market, you still need to manage risk. You should always have an exit strategy for when the markets turn against you. This includes using trailing SELL Stops, holding a solid amount of cash, and using a hedge service that allows you to not just protect your wealth, but actually profit when the markets decline.
For those who have not yet taken advantage of our Special Offer to subscribe to Trend Technical Trader (TTT), seriously think about doing it now. Protecting your wealth in a declining market is critical to being a successful investor.
We have extended our Special Offer to make it easier for you to get TTT's strategies for a correction, and especially for a full-on crash. It's your money – take control!  Save $250 off the regular price of $649.95, and get TTT's daily updates on the markets for only $399.95. Click here to take advantage of this offer.
Stay tuned!