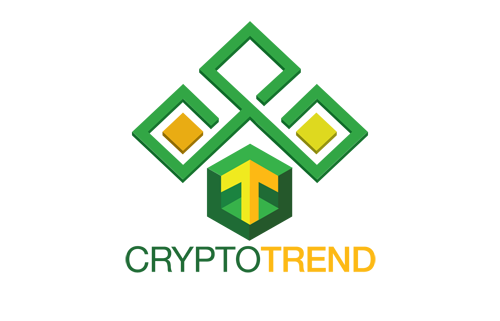 At the time of this writing, the price of Bitcoin is $17, 049, up over $9, 971 or 140% in the last month. In the first issue of Crypto TREND we warned that the cryptocurrency space was the "wild west", and recent action certainly confirms that status.
Here is a chart that compares the rise of Bitcoin to the rise of the S&P 500 over the past seven years.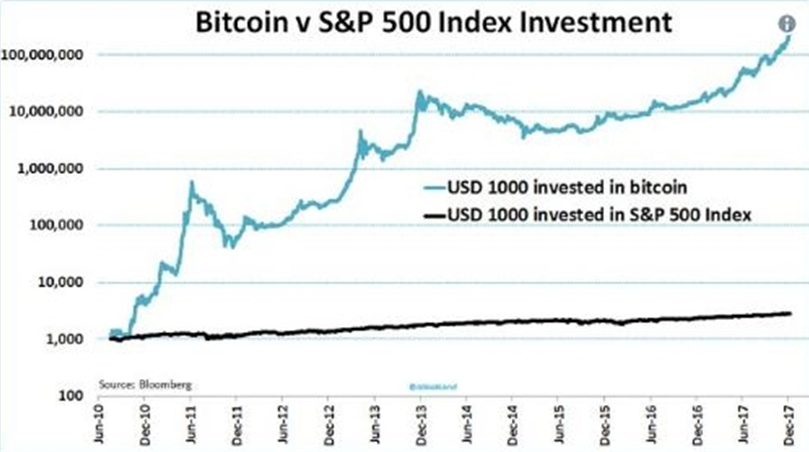 While Bitcoin has been red-hot, the other cryptocurrencies have been a little less volatile, with Ethereum up only 48%, and Litecoin up 57%.  The reason for the latest surge in Bitcoin's price is that the CBOE Global Markets is due to launch Bitcoin futures on Sunday, December 10th, and the following week, the Chicago Mercantile Exchange (CME) is slated to open its own Bitcoin futures contract.
These futures contracts on mainstream exchanges will bring a new type of investor into the Bitcoin space, and we will get a reading of how large institutional investors view Bitcoin.  After the initial frenzy, a clear picture will emerge of how many are 'shorting' Bitcoin, and how many are going 'long'.  This is the first opportunity for Hedge Funds and large institutional investors to pile in.  The results will be telling, and we will be watching closely.  As mentioned in our third edition, Nasdaq is planning to launch Bitcoin futures in the first half of 2018 – another way for retail and institutional investors to put significant amounts into this market.  The first ten years have been phenomenal – this next year could be even more so.  If you were an early investor and bought Bitcoin in February 2011 and held on till today, you would be sitting on gains of over 1,000,000%!
There is no shortage of opinions and predictions about cryptocurrencies (CC's), but it is still too soon for many investors to take the big leap of faith required.  There is hyperbole on both the positive and the negative side of the cryptocurrency debate.
Detractors include:
Warren Buffet…
"The idea that bitcoin has some huge intrinsic value is just a joke, in my view."
Credit Suisse Group AG CEO Tidjane Thiam…
"The only reason today to buy or sell bitcoin is to make money, and such speculations has rarely led to a happy end,"
Themis Trading LLC…
"A bitcoin future would be placing a seal of approval around a very risky, unregulated instrument that has a history of fraud and manipulation."
JPMorgan Chase CEO Jamie Diamond…
"If you're stupid enough to buy it, you'll pay the price for it one day."

"The other thing I've always said about bitcoin, governments are going to crush it one day. Governments like to know where the money is, who has it and what you're doing with it, in case you haven't noticed."
One of the most dramatic of the negative outlooks is this from Pan Gongsheng, deputy governor of the People's Bank of China…
"So there's only one thing we can do – watch it from the bank of a river.  One day you'll see Bitcoin's dead body float away in front of you".
On the other side of the debate, there are many prominent proponents:
Bill Gates…
"Bitcoin is better than currency in that you don't have to be physically in the same place and, of course, for large transactions, currency can get pretty inconvenient."
Dr. Eric Schmidt, former CEO of Google…
"Bitcoin is a remarkable cryptographic achievement and the ability to create something that is not duplicable in the digital world has enormous value"
Kay Van-Petersen, Saxo Bank analyst…
"This is not a fad, cryptocurrencies are here to stay.  There will emerge two to three main ones. Bitcoin will be one of those. And the reason is the first-mover advantage, the scale and the pioneering."
Mark Cuban, Tech billionaire…
"While it's hard to establish any intrinsic value for bitcoin or any of the cryptocurrencies, none of this has anything to do with the applications that can be built with blockchain. The question is whether great companies can be financed and built, and I think the answer is yes."
The Chinese government has shut down Bitcoin Exchanges and banned Initial Coin Offerings (ICO's).  Measures to curb the use of CC's are gaining momentum in Asia as India, Bangladesh, and Indonesia have issued warnings.  Some governments have banned the use of Bitcoin as a payment tool. The European Central Bank, the Bank of France, the German Central Bank, and Vladimir Putin have warned against investing in Bitcoin at these high prices.  Governments are starting to realize that a currency they don't control is a currency they cannot inflate, or tax.
While the cryptocurrency space will continue to act like the "wild west", as Cuban stated, it is the underlying Blockchain technology where we believe great gains can be made over the next 10 years.
In the last edition we talked about exploring ways to invest in this market space indirectly, by investing in publicly held companies that utilize Blockchain technology, or are involved in Blockchain related projects.  We are watching about fifteen of these companies, to see if they become worthy investments.  Also, we are aware that efforts are being made to launch Exchange Traded Funds (ETF's) that track Crypto Currencies.  ETF's will make it easy for the retail investor to use their current Broker or Stock Exchange to make a "long" or "short" bet on crypto coins.
Also, we are aware that efforts are being made to launch Exchange Traded Funds (ETF's) that track Crypto Currencies.  ETF's will make it easy for the retail investor to use their current Broker or Stock Exchange to make a "long" or "short" bet on crypto coins.     
If you are looking to buy some cryptocurrencies, understand that more than any other sector, investing here will be only for your most speculative capital, money that you can afford to lose.
CRYPTO TREND will be your guide if and when you are ready.
Stay Tuned!